Application:

WQ submersible sewage pump is suitable for chemical, petroleum, pharmaceutical, mining, paper industry, cement plant, steel mills, power plants, coal processing industry, and urban sewage treatment plant drainage systems, municipal engineering, construction and other industries containing particles of the sewage, wastes and also used for pumping clean water and corrosive medium
Product Features:
1. the use of a unique single or double blade impeller structure, greatly improving the dirt through capacity, can effectively through the pump diameter of 5 times the fiber material and diameter of the pump diameter of about 50% of the solid particles.
2. the mechanical seal using a new type of hard corrosion-resistant titanium tungsten material, the pump can run safely for more than 8000 hours.
3. the overall compact, small size, low noise, energy-saving effect is remarkable, easy maintenance, no need to build pump house, diving into the water to work, greatly reducing the project cost.
4. the pump sealed oil chamber is equipped with high-precision anti-jamming leakage detection sensors, stator windings embedded in the thermal components, automatic protection of the pump motor.
5. according to the needs of users with automatic control cabinet, the pump leakage, leakage, overload and over-temperature, such as automatic protection to improve product safety and reliability.
6. the float switch can change according to the required level, automatic control of the pump start and stop, without special care, the use of extremely convenient.
7. WQ series can be equipped with dual-rail automatic coupling installation system, which brings more convenience to installation and maintenance, so that people do not need to enter the sewage pit for this purpose.
8. can be used in the whole head, and ensure that the motor is not overloaded.
9. there are two different installation methods, fixed automatic coupling installation system, mobile free installation system.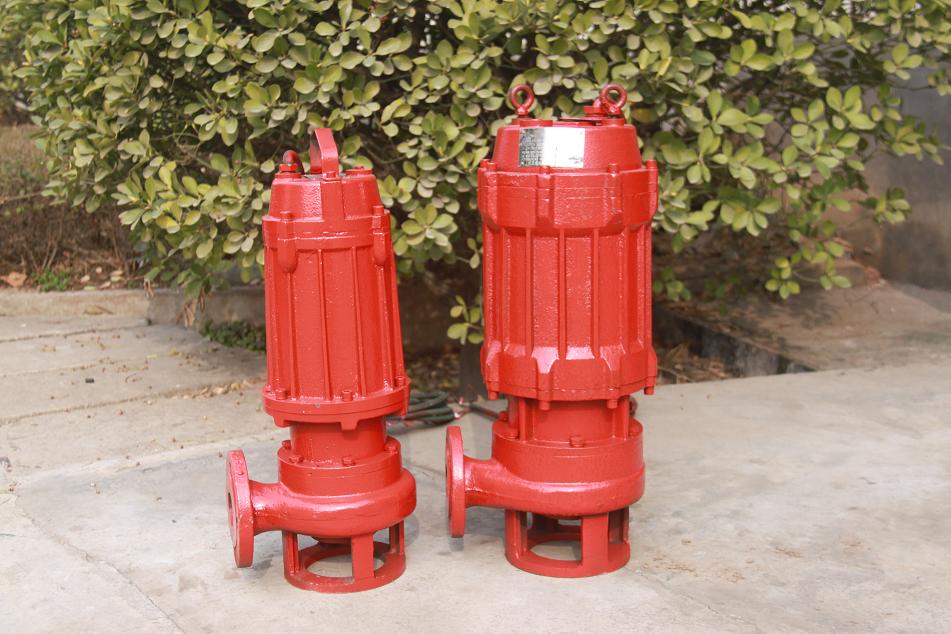 The main parameters

| | | | | | |
| --- | --- | --- | --- | --- | --- |
| Model Item | Head Range /m | Pump Efficiency/% | Rated Power/KW | Rated Current/A | Motor Efficiency/% |
| WQ18-15-1.5 | 18 | 15 | 2840 | 1.5 | 47.1 |
| WQ15-22-2.2 | 15 | 22 | 2840 | 2.2 | 50 |
| WQ50-10-3 | 50 | 10 | 1430 | 3 | 54.5 |
| WQ24-20-4 | 24 | 20 | 1440 | 4 | 49 |
| WQ40-15-4 | 40 | 15 | 1440 | 4 | 54 |
| WQ65-15-5.5 | 65 | 15 | 1440 | 5.5 | 56 |
The main purpose:
WQ sewage submersible pump is mainly used in chemical, petroleum, pharmaceutical, mining, paper industry, cement plant, steel plant, power plant, coal processing industry, and urban sewage treatment plant drainage system, municipal engineering, construction sites and other industries conveyor belt Granules, sewage, dirt, can also be used to pumping water and corrosive media with high efficiency, energy saving, anti-winding, no clogging, high reliability. The flow range of 15-100 cubic meters / hour, the lift range of 10-50 meters.
Precautions:
1. If the pump is used to suck thicker than the viscosity of the slurry, the need to clean the pump chamber to prevent the pump to leave sediment.
2. Do not lift or suspend the cable.
3. The pump should not be long-term low-lift operation in the state, to prevent overload and burn out the motor.
4. When the customer is equipped with automatic coupling device, the length of guide rail should be determined (standard length is 3M).
5. Under normal conditions, every 300-500 hours should be added or replaced oil in the oil room (10-30 # oil), to improve the service life of mechanical seals. Pump routine operation after 3000 hours, the need for the pump for inspection and maintenance, if necessary, replace the wearing parts should not be reused.

Conditions of Use:
Medium temperature does not exceed 60 ℃, the severity of 1.0 ~ 1.3kg / dm3, PH value in the range of 5 to 9. The pump is mainly made of cast iron and can not be used for pumping highly corrosive liquids. Pump work, the motor part of the exposed surface shall not exceed 1 / 2.1Cr18Ni9Ti stainless steel can use a variety of corrosive media.
Looking for ideal WQ Sewage Water Pump Manufacturer & supplier ? We have a wide selection at great prices to help you get creative. All the Sewage Submersible Sea Water Pump are quality guaranteed. We are China Origin Factory of WQ Series DC Non-clogging Sewage Water Pump. If you have any question, please feel free to contact us.
Product Categories : WQ Type Submersible Well Pump